It seems that the start of Netflix's recent issues can be traced back all the way to the commissioning of the controversial show Insatiable. 2022 has been one of the worst years for Netflix in its short history, with panic over first quarter subscriber drop of 200,000 wiping $50 billion off the market valuation of the company. Many experts have issued warning signs that the streamer may be in big trouble, as the current downward trend in its share price is expected to continue. Some have even said that two million more are likely to cancel their subscription before July.
Many are pointing a finger not at the decline in quality, but the increase in quantity of the content being released on the service. While Netflix initially carved a name for itself as the best place for original content with shows such as House of Cards, Orange Is the New Black, and Stranger Things, in recent years the number of shows commissioned has increased, but very few reach the level of popularity that those early programs garnered. Moreover, all three were the brainchild of content lead Cindy Holland, who spent a great deal but saw fantastic results with her commissioning. However, Holland left Netflix in 2020 after newly-minted CEO Ted Sarandos said he would be backing her thrifty rival Bela Bajaria over her.
According to a new piece from THR, Netflix's decline can be traced back to an incident between the two women known as "Insatiable-gate" among Netflix employees. Back in 2017, the then freshly-appointed Bajaria made the decision to commission Insatiable, despite Holland having previously passed on it. The piece outlines that it was "the beginning of the Walmart-ization" of Netflix, and that it caused "demoralization and chaos." Furthermore, the article outlines that Sarandos' decision to allow one team to greenlight a project another had passed on was considered a "terrible thing" by employees at the streamer, even though the program did well enough to warrant season 2.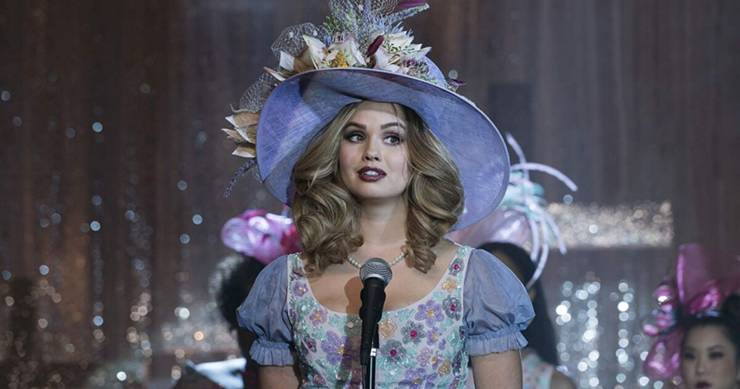 The series was, for all intents and purposes, disastrous television. Insatiable received terrible reviews and was accused of being not only laden with stereotypes and fatphobic storylines, but also performatively woke. It is therefore a complete surprise that Sarandos would allow Bajaria to greenlight the project, and speaks to a complete lack of quality control at the company. While it would be easy to point the finger at Bajaria, and by the sounds of it her team constantly clashed with Holland's, in the THR piece, an exec at the company outlines that it can't be considered her fault. Instead, pressure from figures like Sarandos at the top reportedly often forces her hand.
When comparing the streamer's early years to its current downward spiral, it is clear that Holland's carefully curated but expensive selection of programming was far more successful in building a devoted subscriber base than Sarandos' current ethos of more-is-better. Her decision to pass on Insatiable would have resulted in far fewer headaches, and while her model of spending a great deal on high-quality programming likely would've been unsustainable, she had a great eye for a hit. For instance, Holland's last show at the company was The Queen's Gambit, which became one of the most-watched shows of 2020 and won nine Emmys.